---
Our 24-hour guide to the beach town of Silvi Marina and its hillside sister, Silvi Paese is written by Serena Mariani, creator of  Pasquale's Peppers whose fair labour peperoncini you may have spotted on our marketplace. She splits her time between London and her family home in Silvi Marina and alongside her tips are a few from members of our LifeInAbruzzo Facebook group!
---
1. Silvi in 5 words!
Sand, pines, ice-cream, arches and views!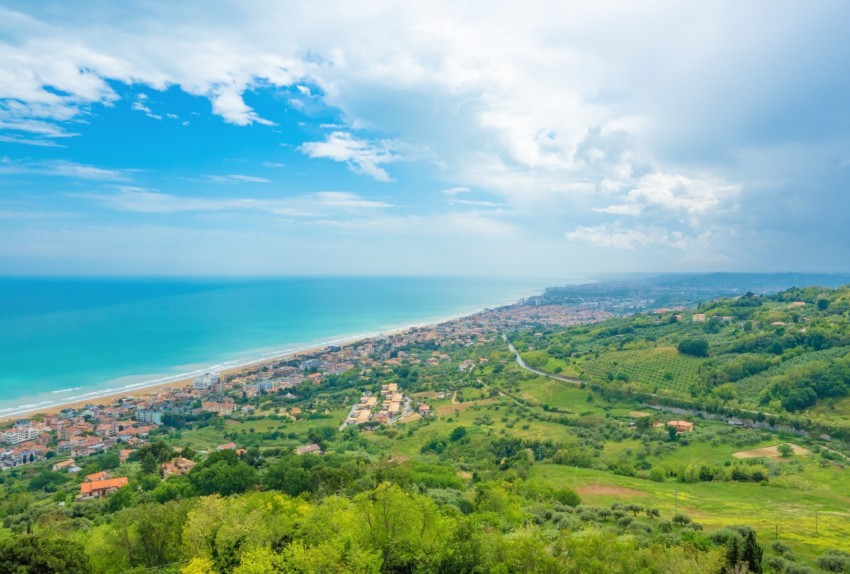 2. What to Visit, Churches, Museums, Galleries etc
Silvi Marina is mostly a post-war town, and the natural beauty of the coast and the interesting Art Deco buildings have been somehow overshadowed by savage construction from the '80s, so unfortunately there's not much to see here except for the beautiful sandy beach. However, the old town on the hill, called Silvi Paese or Silvi Alta, is very picturesque and a nice place to spend half a day visiting the medieval church of San Rocco with Baroque interiors, taking in the views and exploring the narrow lanes and hidden piazzas.
3. Best Places to get a View
Definitely the Belvedere in Silvi Paese for a sweeping view on the coast from Vasto to Ancona in the Marche, on a clear day, as well as on the Majella and Gran Sasso mountains. It never gets old!

4. Local Dishes to Try
Look out for Frittura di Paranza (mixed fried fish, whatever the catch of the day from the "paranza" boat is), Spaghetti con le Telline (small smooth clams) and for "La Griglia di Casa Nostra" their most famous primo is "Gnocchi Bellavista", a secret recipe!  Definitely anything including fresh fish, if you can find a place that still uses the catch of the day from the Adriatico sea – your brodetto or pasta allo scoglio may not include 20 different types of fish, but it will be amazing!

5. Great Walks & Cycle Rides
Finally, the long awaited "pista ciclabile" (dedicated bike route) connecting Silvi to Pineto, Roseto and further north on the coast is open. You can start with a picnic in the beautiful "pineta" at the northern end of Silvi and cycle to the Cerrano Tower, visit and then continue further all the way to Roseto.
6. Where to have an Aperitivo
Head to the very southern end of Silvi, in the "La Piomba" neighbourhood, to grab an aperitivo (or breakfast, or lunch) at "Da Ciccio". It's not picturesque but the baked goods are very tasty, and all made completely on the premises.
For a beachside drink, you can check out some of the more central "casotti" – my favourites are Agua, Lido Las Vegas and Tuca Tuca (June to September).
7. Recommendation of a Local Vineyard to Visit or go For a Tasting
There are a few cantinas to visit in Silvi, such as Barone di Valforte, and Cantina Fuschi, that make solid wines – check they are open before you visit though.
8. Recommendation of Budget and High-end Restaurants
Our family favourite is "La Griglia di Casa Nostra", a local institution that's been running for over 50 years! They have a nice location on the hills, incredibly reasonable prices, a very family-friendly setup including a swimming pool, and very authentic rustic fare. Definitely try their Antipasti that is a meal by themselves, but leave space for the roast meats too.
For a treat, go to Ristorante Alusea that specialises in fish – they recently opened a new outdoor location in the "Le Dune" resort (accessible to the public) that's very pleasant in summer and just a stone's throw from the sea.
9. Sagre and Feste?
Everything happens in summer really. I recommend the Ferragosto fireworks from the beach in Silvi, and the sagra and cultural event "Arti e Mestieri a Castel Belfiore" (Castel Belfiore being Silvi Paese's old name).  This 5-day program starts the first Friday after the middle of July till Tuesday and brings the old town back to life by travelling back in time.  Expect a combination of street theatre, re-enactment, donkey races, a pupa dance all of which are helped along by the town becoming a medieval arts and crafts labyrinth set out in the town's alleys and lanes.
"Lu ciancialone" that celebrates the Feast of San Leone has been recently rekindled and is celebrated on the 31st May.   The younger members of the town bring a Cencialone to the square where it is lit at 9 pm.  This is a huge torch made up of dry branches, straw bundles (in dialect "cèncele"), and a large number of dried reeds.  It commemorates the year 1566 when a large fleet of Turkish ships invaded the Abruzzo coast, sacking many towns and districts. It is said that having reached Silvi, the Turks destroyed the port of Cerrano. But they were unable to enter Atri and Silvi due to the defense organised by Duke Giovan Girolamo d'Acquaviva. The local legend  is that the Turks went up from the port of Cerrano towards the town, where they were met by a young guy called Leone, who dazzled them by burning a torch. The invaders, blinded and frightened, fled immediately. The people said that it had been a miracle of the patron saint of the town S. Leone, who the youth was named after.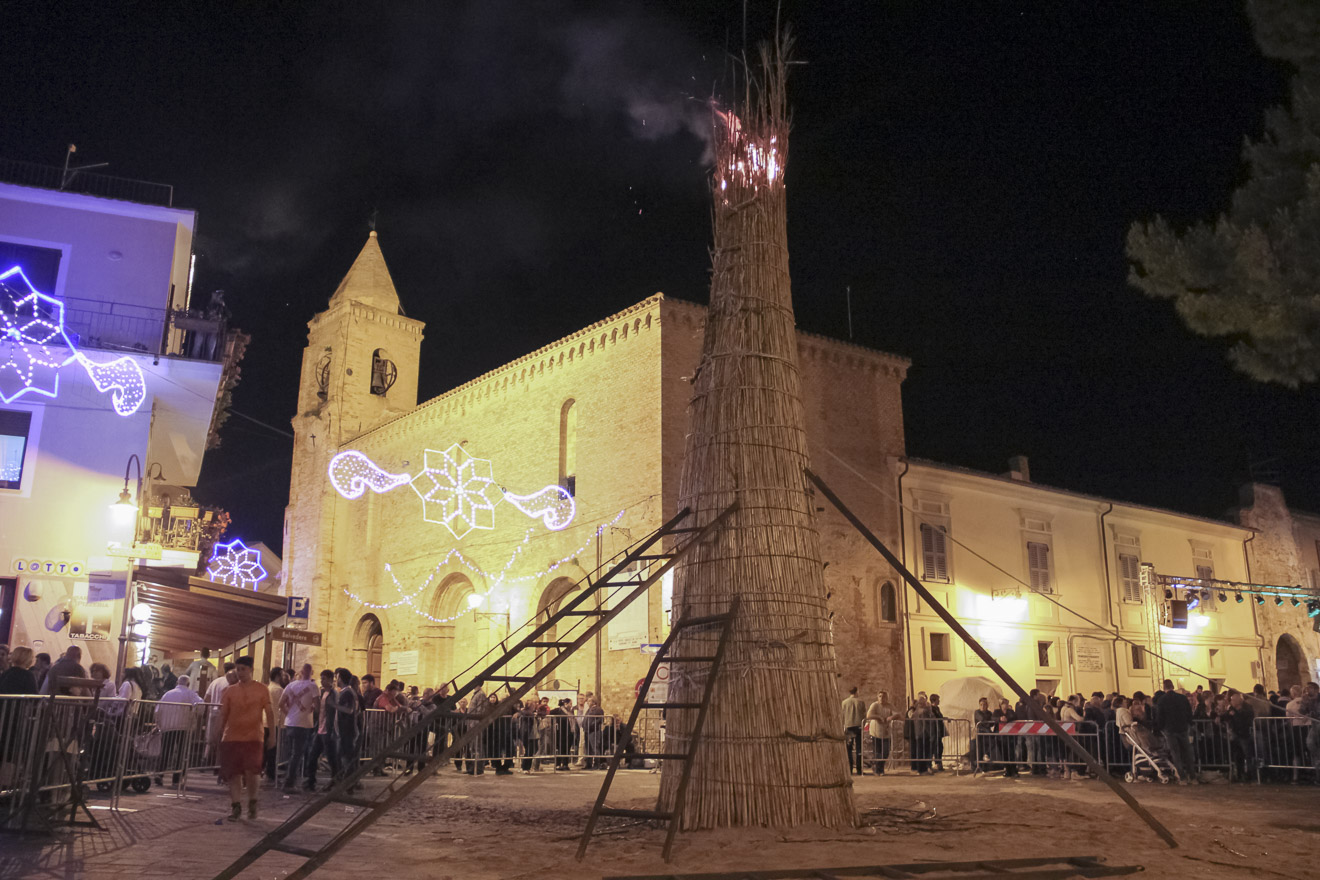 10. The Best Things to do Locally for the Under 12s
Check them into one of the many well-equipped local "casotti" (beach huts) for kayaking, beach volley and often baby clubs. And once they're well tired, ice cream for all the family at the historical Gelateria Tiziano.
"We love going to the Mion Hotel in Silvi Marina. They do a wonderful buffet lunch – fresh local produce and great views from the terrace.  The beach at Silvi is
Blue Flag
and really refreshing for a dawn walk to watch the sun come up. Silvi Paese is stunning – with far-reaching views almost to Ancona. Have a great time exploring!" 
Rossana
"Up in Silvi  Paese do visit B
ar Gelati…Amo
(it's tucked in front of the newspaper kiosk), their taglieri is a wonderful feast, and their wild mint mojitos are excellent.   If you fancy arrosticini or succulent calamari from the 2 small fry fish shops they'll get it for you so it is the perfect way to indulge in street food without it involving any queueing!  As a parent, it is a fantastic spot as you could watch your children play on the well-equipped playground 1 flight of steps below and still take in the view of the Adriatic coast running down to Pescara."
There has been a mini food revolution in Silvia Paese over the last few years and it now has a vibrant and buzzy evening street food scene that makes it a lovely place to be in the evening whilst enjoying the breezes and taking in the vistas.  Expect delicious fried things from little holes in the wall like
Siamo Fritti Silvi Paese
as you watch the sunset." 
Sam